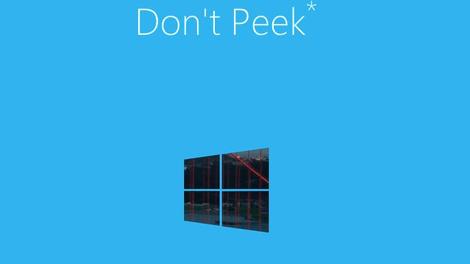 3. Smaller Windows 8 devices
There's a space Microsoft hasn't extended its Windows 8 reach to yet, but that could change before year's end.
That area is of course smaller devices, namely ones developed by the company's OEM partners and sized in the 7- to 8-inch range.
"As part of [new device offerings], we are also working closely with OEMs on a new suite of small touch devices powered by Windows," former Microsoft CFO Peter Klein said during the company's April earnings call.
The timing seems right for Microsoft to introduce a tablet or hybrid meeting the smaller size requirements: In March, the company revised its display resolution requirements for OEMs down to 1024 x 769, meaning the producers are now free to play with daintier displays.
We've seen leaks for an 8-inch Acer device called the Iconia W3, which actually made a hasty appearance on Amazon before getting the hook. Asus seems to be on board with whittled-down Windows 8 products, and that's nothing to say about Microsoft's potential Surface Mini musings.
A May 15 DigiTimes report indicated Microsoft plans to launch an 8-inch Surface in June, followed by a 10.x-inch version as early as the third quarter of the year. Citing "supply chain makers," the sometimes spurious site noted the 8-inch Surface will feature Samsung-built touch panels and Nvidia processors.
Will we see an OEM-made 7- to 8-inch device burrow out of Build? We certainly think that, along with a smaller Surface, is certainly possible.
4. Windows Phone Store strategy 101
Let's be frank: Windows Phone lacks hard in the app department. At last count, the Windows Phone Store counted 145,000 apps - compare that to the bajillion-plus in the iOS and Android app stores, and Windows Phone is doing a fine job of holding up the rear.
Granted, the Store's app count is growing, and the Microsoft team is "talking to a lot of folks" about various apps, something the company told us in a March interview, all the while staying focused on developing a "vibrant, differentiated third ecosystem."
The big question for Microsoft is how to get that message to developers while simultaneously courting the big name apps that are embarrassingly hard to come by on the platform.
We were told during CTIA 2013 that there will be app platform discussion for Windows Phone 8 during Build by Senior Marketing Manager Greg Sullivan, with a focus on the "here and now" of the platform and not what's down the road.
Yes, Windows Phone 8 is a new platform, and every week the company seems to add at least one high-profile app (recently it was a full-fledged YouTube app) but if Microsoft wants its mobile OS to be around for the long term, it's got to figure out its app situation quick. Build seems like the place to lay all its apps on the line.
5. Xbox ties us all together
On May 21, Microsoft will introduce the world to a new generation of games, TV and entertainment through the Xbox 720, the long-awaited follow-up to the Xbox 360.
Microsoft has promised a multi-part introduction to the new Xbox, including some going-ons at E3 2013 and yet more at Gamescom 2013, but by the time Build rolls around, the new Xbox will be out of the bag in all its green-glow glory.
Developers will clamor to learn more about the console and how it fits into the larger Microsoft ecosystem. To be honest, we'll wonder the same things, and can't imagine Microsoft passing on the chance to talk about and introduce new features related to its flagship console.
Word in mid-May surfaced that Microsoft's updated Xbox 360 dashboard ties into the Xbox 720, and could help gamers transition to the new console. The new UI is said to have markings of Windows 8.1, as well. The public beta of the new dashboard may come in late June or early July - right around the time of Build.
While we don't know yet just what Microsoft has planned for the new Xbox, all signs point to not just a gaming console, but a completely different way to be entertained and connected. Build will build on the announcements of May 21 and E3, no pun intended.